Model 620A FastTRAC Programmer/Controllers for Environmental Chambers

Accessories
FastTRAC (Thermal Response Accelerating Control)
FastTRAC is a patented control technique that offers dramatic improvements in the performance of environmental chamber test program development and execution.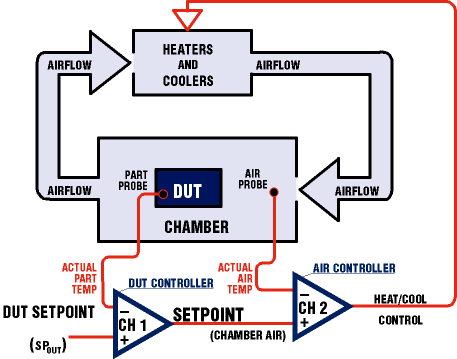 ---
With the model 620A's FastTRAC control:
Time-consuming test chamber characterization studies are minimized prior to actual device testing
The thermal transition of the device-under-test (DUT) will be improved by at least 2:1
High and low limits, maximum cap, and air temperature setpoints can be selected
FastTRAC control combines JC Systems' proprietary ThermoBoost™ technique with a patented adaptation of classic cascade control to cut DUT thermal transition time by 50% or more over conventional techniques while simultaneously guarding the DUT against potentially damaging levels of thermal stress.
FastTRAC improves test chamber throughput. Actual part temperature and chamber temperature are monitored so testing can commence immediately after the DUT reaches the specified temperature at each stage of the test program. And since the DUT temperature is directly controlled, minimal thermal characterization tests are necessary.
The chart below demonstrates the dramatic improvement in test performance that FastTRAC control provides. In this example, the DUT is being heated from ambient to 76°C. Note that while the DUT temperature is well below the new setpoint value, FastTRAC control drives the chamber temperature to the ThermoBoost level of 91°C (15°C above the programmed setpoint). As the DUT actual temperature approaches the programmed setpoint, the chamber temperature is automatically reduced.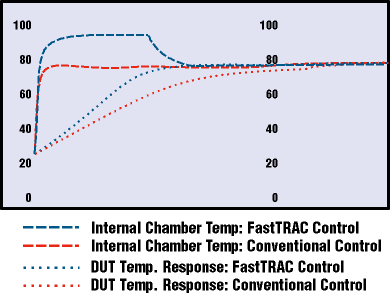 ---
The JC Systems family of Precision Environmental Chamber Programmer/Controllers puts it all together for you: upward compatibility, configuration flexibility, ease of operation, convenient packaging plus the dedication to performance, reliability and service you've come to expect from JC Systems - the leader in chamber control innovation.
---
TMC Services, Inc. All rights reserved.